Express your solidarity
You can help them in two ways :
1- Send an e-mail containing words of encouragement and positive thoughts or congratulations to those "Women's groups against FGM". Tell them how it would make you feel better knowing they will stop the FGM practice into their families. (All messages will be translated in Maasai dialect and read to village women.)
Here are some messages we have received and transmitted : Read
2 - Buy some Maasai handicraft (traditional beadwork) :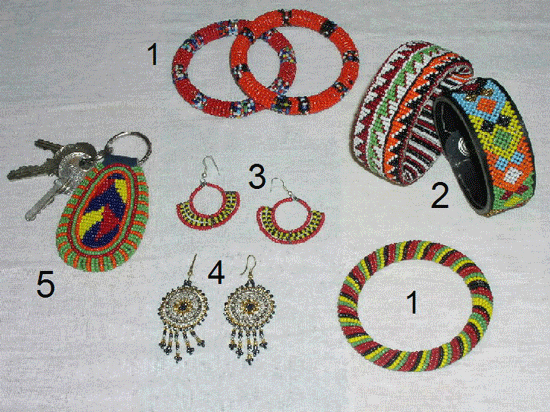 Maasai beadwork
Prices in Euros :
Article 1 : Simple bracelet (cylindrical) 10 €
Article 2 : Double-faced bracelet 20 €
Article 3 : Earrings 7 €
Article 4 : Big earrings (rosace form) 15 €
Article 5 : Key holder 13 €
Make your choice and indicate :
Calculate the total of your order, and add 3 more euros for shipping fees. Then please pay on-line.
With our sincere thanks for your solidarity act with the "Maasai women groups against FGM"
(Ashe Oleng - Maasai, for "thanks a lot"ï)