Kenya at a glance
Statute : Republic
Surface : 581 787 km²
Population : 32 021 856 inhabitants (2004)
Density : 55.04 hab./km²
Official Languages : Swahili, English
Languages : Kikuyu, Luo, Luyia, Kamba, Kalenjin, Gusii, Meru
Religions : Christianism (50 %), Animist (25 %), Islam (7 %)
Money : Shilling
Capitale : Nairobi
Main towns : Mombasa, Kisumu, Nakuru, Eldoret, Thika, Nyeri, Nanyuki, Kitale, Malindi, Kericho
Border countries : Ouganda, Soudan, Ethiopia, Somalia, Tanzania
Highest Point : Mount Kenya 5 199 m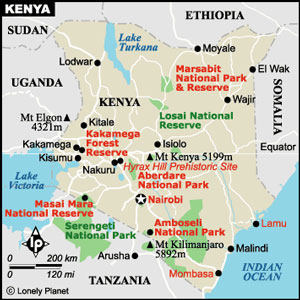 The Equator line crosses through Kenya. It is a splendid country which offers magnificent game reserves, home to a wide variety of wirld animals. Kenya is also a country of all contrasts :
- Mount Kenya and the Swahili coast on the shores of the Indian ocean (Lamu, Malindi, Mombasa)
- Lake Victoria and the dry land of North Eastern
- National parks with game reserves and the protected areas but also the rapid cutting down of natural forests by poor people without any other income.
- The thousands of tourists from western countries who spend their holidays in Kenya yet a big part of the population cannot afford basic needs of life.
Life expectancy has dropped to the average of 46 years since the HIV/AIDS pandemic.
| | |
| --- | --- |
| | To many, Kenya is the paradise of wild animals. The most well known NAtional parks to name a few are Amboseli game reserve on the foot ofthe eternal snow tops of Mt. Kilimanjaro, Masai Mara, Sambuuru game reserve, Buffalo Springs and Shaba. |
The national parks of Tsavo East and Tsavo West near Mombasa, Nakuru National Park famous for the pink flamingos (1.5 Million), Kakamega natural rain forest a real pleasure for lovers of bird observation (over 1075 bird species live in Kenya).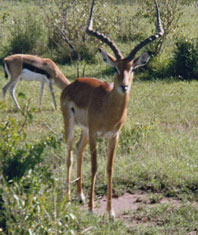 As this happens in other African countries, the virgin lands, forests and habitable areas are constantly threatened by an increase of population which is in need of land to settle down, land for cultivation, pastures for livestock, a high growth of urbanisation and industrialisation.

Poaching has not completely disappeared notably with the lifting of forbidding the trading of ivory. But all hope is not lost. The Kenya Wildlife Services (KWS) is very active with programmes that teach future generations how fundamental is to protect this heritage.
Copyright © e-solidarity.org, 2004-2005
info@e-solidarity.org